Launch of MYSY (Mukhyamantri Yuva Swarojgar Yojana) Portal for Directorate of Industries and Enterprise Promotion Government of Uttar Pradesh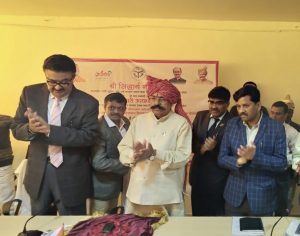 In order to promote the self-employment opportunities to the educated but unemployed youth of state, Government of Uttar Pradesh has announced the scheme of Mukhyamantri Yuva Swarozgar Yojana. In order to provide a single window system for applying, disposal and real time monitoring of scheme a web portal with end-to-end computerization has been developed by NIC UP State Centre. The portal was launched by Chaudhary Udaybhan Singh, Hon'ble Minister of State, MSME & Export Promotion, GoUP on 19th Feb 2020 at Lucknow in the gracious presence of Sri Navneet Sehgal, IAS & Principal Secretary, MSME & Export Promotion, UP and Shri Govindaraju N.S, IAS & Commissioner & Director, Directorate of Industries.
Sri Navneet Sehgal praised the efforts of NIC UP in the development of the portal during his address on the occasion. Sri Shailesh Srivastava, Scientist 'F' NIC briefed about the features of the portal and explained the online process flow. Shri Ashish Rastogi, Scientist 'D' NIC has given the detailed presentation to all the Joint commissioners and district officials, present in the function.
There are two sectors in this scheme i.e. Industrial Sector & Service Sector. The Maximum loan amount for Industrial Sector is Rs. 25 Lacs and that of Service sector it is 10 Lacs. The margin money for these two sectors is 25% of the Loan amount.These schemes having the Citizen Registration, DIC level Approval, Rejection and forward to district level task force committee (DLTFC) ,DLTFC level Approval, rejection and Forward to bank and Bank Module for claim the margin money. Dashboard for Principal Secretary, Directorate, Joint Commissoner, DIC, DLTFC and Bank Level Officers has also been developed for the real time monitoring of the scheme.
For more information, visit the website: http://diupmsme.upsdc.gov.in