ePass Management System in Uttar Pradesh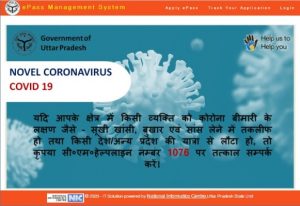 NIC has developed a centralized ePass Management System for the pass seekers in different districts of the state during the lockdown owing to Corona Virus pandemic. The ePass system is a web based solution that not only keeps the huge crowds away from the district collectorate offices but also helps the administration in implementing social distancing as advocated by the Health Ministry and other experts.
NIC UPSC took up the initiative and developed a fully functional system for receiving online pass request from organizations, individuals and businesses for issuing passes to multiple entities for movement within the district and across the districts to provide essential services in the State. The ePass system is hosted on web and captures 22 categories of essential services such as health care, ration shop, food supply through e-commerce, telecom, postal, banking, etc. The district administration officials such as Additional District Magistrates (ADM) and Sub District Magistrates (SDM) are nominated as ePass issuing authorities in the District, but their identities are not visible to the applicant for security reasons. Applicant can apply for pass from home or mobile using internet with OTP based confirmation. The application is automatically forwarded to the ADM of SDM depending on the location and movement details. All the applications will appear on the dashboard of respective issuing authorities for approval and rejection of the passes. After scrutiny of the information and documents uploaded by applicants, issuing authorities gives approval on the portal, after approval a link is sent to the applicant mobile number through SMS which consists of pass details that can be downloaded with issuing authority signature on the pass.
Information required for checking of the pass is made possible using QR code scanner, since pass consists of QR code on the top and consists major information which can be cross checked by the police personnel at the check points with identity proof of the person. Even if the application for ePass has been rejected an SMS is sent to the applicant with the reason for rejection to make system transparent. There are over 425 issuing authorities in the state and more than 15 thousand applications are received every day for issuing passes.