Launch of MSME beneficiary schemes by Hon'ble Chief Minister, Uttar Pradesh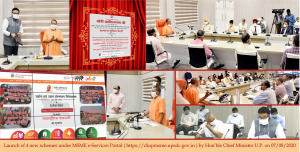 To promote the national self-reliance and to become vocal about local, Hon'ble Chief Minister Yogi Aditya Nath has launched the online version of 4 more schemes viz. ODOP (Marketing Development Scheme), ODOP (toolkit & training) for SC/ST & OBC persons and Hastshilpi Skill development scheme for the citizens of the state on 7th August, 2020 at Lucknow. The schemes will be available at the existing online portal of MSME Directorate.
Sri Siddarth Nath Singh, Cabinet Minister MSME & Export Promotion, Government of UP, who was present during the launch, appreciated the efforts of NIC UP to bring revolution and digital transformation in MSME Sector by enhancing the platform with more services in a very short span of time.
Sri Navneet Sahgal, Additional Chief Secretary MSME & Export Promotion, GoUP informed the guests that department has already provided the benefit of the schemes to 98,473 MSME units by the use of technology in a short span of 3 months. He mentioned that this could be achieved only due to the effective and transparent use of online eServices portal that was launched by Hon'ble CM on 14th May 2020. With the addition of these 4 new services now the portal has 8 schemes in its basket of services for the citizens. Few more schemes are in the pipeline and will be launched soon.
This online platform, developed by the NIC UP State Centre team led by Sri Anshu Rohatgi, STD & ASIO under the able direction and guidance of Sri Pratik Kr. Srivastava, DDG & SIO UP has proved a significant step in the direction of Digital India from the perspective of the MSME sector in the state.
Sri Chaudhary Udaybhan Singh, State Minister MSME & Export Promotion, Government of UP with the senior officials of State Government including Chief Secretary, IIDC, APC, Additional Chief Secretary, MSME & Export Promotion, UP and Commissioner, Directorate of Industries graced the occasion. All the District Magistrates & districts level departmental officers also participated in the launch through Video Conferencing.
Sri Shailesh Srivastava, STD & project head and Sri Ashish Rastogi, Scientist – D participated in the launch function held at Chief Minister's residence, Lucknow.