Launch of Aapda Prahari App by Hon'ble Chief Minister, Uttar Pradesh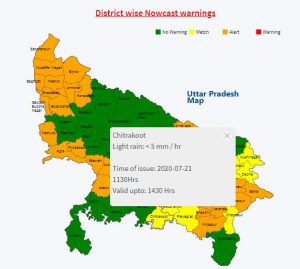 Hon'ble Chief Minister of Uttar Pradesh, Yogi Adityanath, launched an integrated early warning system for weather alerts known as Aapda Prahari App and web based application for disaster Management on 24th July 2020, through video conferencing. The applications seek to improve the relief management work in the state and will help in minimizing the incidents of people getting killed due to weather related disasters. The state-of-art applications have been developed by NIC Uttar Pradesh under the guidance of Shri Vishnu Chandra, DDG, NIC and Shri Prateek Kr Shrivastava, DDG & SIO, UP. The project team comprised of Shri Sanjeev Gahlaut, Scientist-F, Ms Honey Ambardar Scientist-E, Shri Praveen Kr. Scientist-C and Shri Vishnu Swaroop, Scientist-B.
Shri R.K. Tiwari, Chief Secretary, GoUP, Sh Sanjay Prasad, Principal Secretary to Chief Minister, Lt Gen Ravindra Pratap Shahi, Vice Chairman, UPSDMA, Shri. Sanjay Goyal, Relief Commissioner, GoUP also graced the occasion. Smt. Renuka Kumar, Additional Chief Secretary explained the salient features of Integrated Early Warning System, Aapda Prahari App and online Flood Action Plan to the officials present.
The integrated early warning system is an important step towards safeguarding the life and property of the citizens of the state. It will issue warnings about severe weather conditions and disasters based on the Met department's satellite predictions. This will be achieved by sending automated timely alerts/ warnings/ disaster information in the form of text and voice messages in local language (hindi) to Gram Pradhan, Lekhpal, Aganwadi workers, Asha Workers and Police. Other than this, the information will also be relayed to more than 25 lakh farmers and citizens. As of now more than 4 Lac users have already been registered on the system.
The 'Aapda Prahari Mobile App' allows direct connect between the farmers and the relief commissioner's office. The app provides information regarding various government schemes running for disaster and its respective relief to citizens. The farmers and other citizens can also give first information of any disaster to the Government through photographs or message which will be further followed up by Government Machinery at various levels.
The details of shelter/ relief camps with geo spatial data, photograph, families residing in shelter homes can also be registered by the officials through the Mobile App. This information will help the Government in providing relief to the beneficiaries of government schemes. The process of providing the admissible amount of relief to be paid to citizens under various disaster categories directly in their bank accounts via PFMS platform is under development
The major objective of the 'Flood Action Plan – 2020' is to achieve a long term and sustainable approach for managing the risks of floods to protect human life and property. An online flood management application has been developed which collects the historical information of the flood affected areas for a span of 10 years. Information related to shelter homes, baadh chowki, disaster control rooms etc. have been collected and can be accessed by the citizen with a single click.
A citizens' dashboard will also be made available under the citizens' corner on the relief commissioner office website. Using this, people will be able to get information on their nearest relief camps, nodal official details, emergency room details, hospital details and other facilities being provided by the government.
Shri. Sanjay Goyal, Relief Commissioner appreciated the efforts of NIC UP Team for their dedication in development and rollout of these applications in a short span of time.