Launch of MSME Online Service Portal in Uttar Pradesh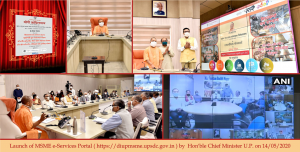 Keeping in line with the Hon'ble Prime Minister's call for national self-reliance and promoting local products, Hon'ble Chief Minister of UP Yogi Adityanath has launched the online portal to provide single window system for applying, disposal and real time monitoring of 4 major schemes of MSME Sector i.e. Vishwakarma Shram SammanYojana (VSSY), ODOP (Margin money), ODOP (toolkit & training) and Mukhyamantri Yuva Swarojgoar Yojana (MYSY) on the MSME eServices portal on 14.05.2020 at Lucknow, Uttar Pradesh. This online platform, developed by NIC UP State Centre, is expected to be a significant step in the direction of Digital India from the perspective of the MSME sector in the state. Sri SiddarthNath Singh, State Cabinet Minister MSME & Export Promotion, Government of UP has appreciated the efforts taken by NIC UP to bring revolution and digital transformation in Industry Sector by introducing a single platform and make it a reality of the Government policy of Services.
All the senior officials of State Government including Chief Secretary, IIDC, Additional Chief Secretaries, Principal Secretary to CM, Principal Secretary, MSME & Export Promotion, UP and Commissioner & Director, Directorate of Industries were present on the occasion. NIC UP was represented by Sri Pratik Shrivastava DDG & SIO (UP), Mr Shailesh Srivastava, Scientist-F & Mr.Ashish Rastogi, Scientist D during the launch.